Pane Carasau
As in all agro-pastoral civilizations, even in Sardinia bread is considered a food that can never be lacking on the table. It is interesting to remember that in ancient times Sardinia was considered the "granary" of Rome and already the Phoenicians did not allow anyone to plant even a single tree in the land destined exclusively for ears.
The birth of Carasau is linked to the rural world: the shepherds, always intent on the care of the flocks, needed a bread that could last for a long time without spoiling. For this reason, once cooked, the bread was cut by women like the shoulder bag that the shepherds used to store it.
In ancient times, the dough was worked and pulled into discs separated by overlapped linen or woolen cloths. Cooked using oak wood. Once baked, the pasta disc was divided into two with the knife and was fired again for the "carasatura".
Pane Carasau or Carta da Musica, very thin, made without preservatives, only durum wheat, water, yeast and salt. To be used in many ways: as a substitute for bread, with cheeses and mixed cold cuts, as a base for the salad, seasoned with tasty sauces and accompanied by red wine.
Qui Sardegna offers its Pane Carasau in the following variants: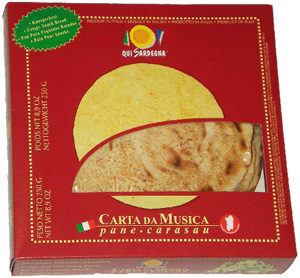 Pane Carasau 250g
Pane Carasau 4 Mori 400g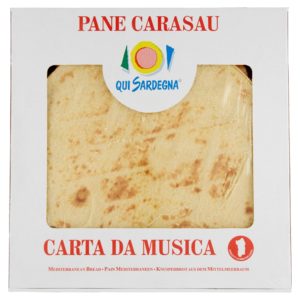 Pane Carasau 500g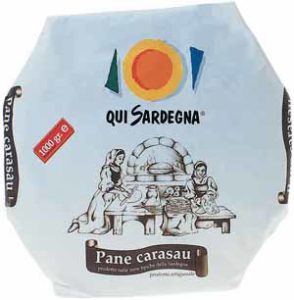 Pane Carasau 1000g
confezione di carta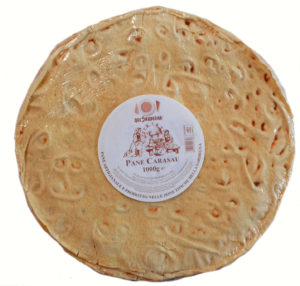 Pane Carasau 1000g
confezione di cellophane